3 killed in shooting near Texas A&M University - CNN.com
(CNN)
-- A Texas constable and two others were killed Monday in a shooting near Texas A&M University, police said.
Rhonda Seaton, a spokeswoman with the College Station police department, told CNN that the three people killed were the constable, the man authorities say exchanged gunfire with law enforcement officers and an unidentified civilian.
A few minutes earlier, Asst. Chief Scott McCollum, from the same police department, told reporters that multiple people had been shot in the incident, which occurred around noon just a few blocks from the Texas A&M campus.
The dead included Brian Bachmann, a constable in Brazos County, according to McCollum. According to his Facebook campaign page, Bachmann was a 41-year-old Republican from College Station who had been a Brazos County sheriff's deputy since 1993.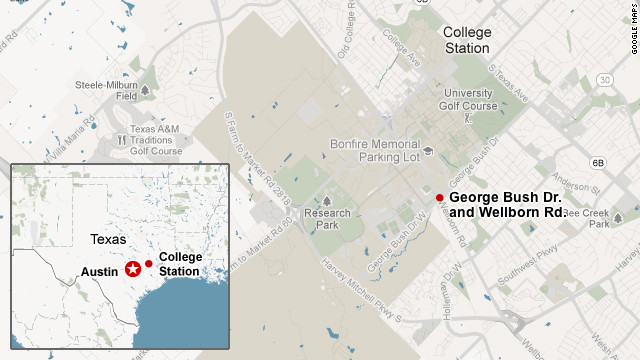 Map: College Station shooting
A male civilian was also killed, the assistant police chief said. A post on the city of College Station's official Twitter page identified this third victim as a "civilian bystander."
Three others were injured in the shooting. They included two law enforcement officers, including one who was shot in the leg, and a female civilian who was undergoing surgery at a hospital, according to McCollum. College Station reported via Twitter that the two officers are at hospitals and "are said to have non-life threatening injuries."
Texas A&M issued a Code Maroon -- the university's emergency notification system -- at 12:29 p.m. CT (1:29 p.m. ET), telling people to avoid the area where there was a report of an "active shooter."
The entire ordeal lasted around 15 minutes, with an 12:44 p.m. update also posted on the university's website indicating the alleged gunman was by then "in custody."
Law enforcement officers responding to a "shots fired call" arrived at the scene and found the constable down in the front yard of a home, according to McCollum. These officers "began taking fire (and) they defended themselves," the assistant police chief said.
"They ended up shooting the gunman and taking him into custody," McCollum said.
McCollum said it was "still unknown at this time" why Bachmann went to the College Station address. But Officer Jason James, with the police department in Bryan adjacent to College Station, told CNN that "there is a possibility that it was an eviction."
James pointed out 911 calls began coming in after law enforcement authorities were on the scene, rather than officers responding to a shooting that neighbors told them about.
"It's not like a disturbance where they were actually dispatched to it," James said. "They weren't responding to a shooting, but it turned into one."
Officer Jon Agnew with the Bryan Police Department -- a community that's adjacent to College Station -- noted the shooting occurred in a "residential area." He said earlier Monday afternoon that, while authorities had not yet ruled out additional suspects and continued to canvass the scene, they believed the area was safe.
"The area is secure," Agnew said. "We feel the community is safe for right now."